Team Manesthesia Takes on Movember
Wednesday, November 7, 2012 
The Movember Effect: Awareness & Education, Survivorship, Research
The funds raised in Canada support men's health issues, specifically prostate cancer and male mental health initiatives.   

The funds raised are directed to programs run directly by Movember and our men's health partner, Prostate Cancer Canada. Together, these two channels work together to ensure that Movember funds are supporting a broad range of innovative, world-class programs in line with our strategic goals.

For more information on the programs we are funding please visit the following:
Movember - a global movement
Since its humble beginnings in Melbourne Australia, Movember has grown to become a truly global movement inspiring more than 1.9 Million Mo Bros and Mo Sistas to participate with formal campaigns in Australia, New Zealand, the US, Canada, the UK, South Africa, Ireland, Finland, the Netherlands, Spain, Denmark, Norway, Belgium and the Czech Republic. In addition, Movember is aware of Mo Bros and Mo Sistas supporting the campaign and men's health cause across the globe, from Russia to Dubai, Hong Kong to Antarctica, Rio de Janeiro to Mumbai, and everywhere in between.

No matter the country or city, Movember will continue to work to change established habits and attitudes men have about their health, to educate men about the health risks they face, and to act on that knowledge, thereby increasing the chances of early detection, diagnosis and effective treatment.

In 2011, over 854,000 Mo Bros and Mo Sistas around the world got on board, raising $125.7 million CAD.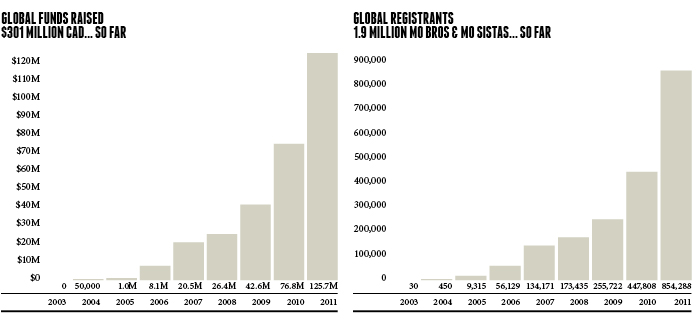 Big steps have been taken towards changing attitudes and habits relating to men's health around the world but there is still much to be done to catch up with the women's health movement. Via the moustache, Movember aims to fulfill its vision of having an everlasting impact on the face of men's health by continuing to spark conversation and spread awareness of men's health each year. 
More About Movember